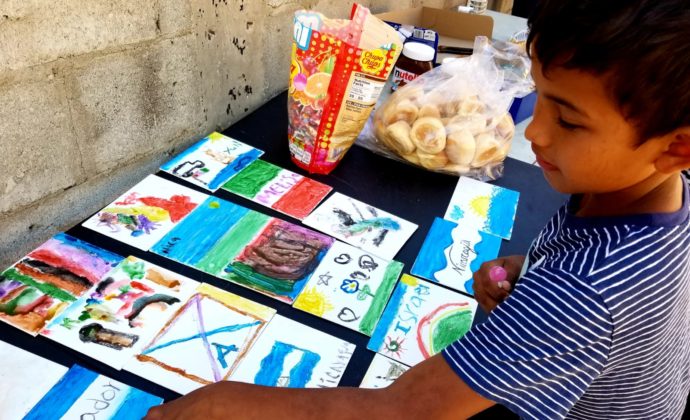 Pizza and painting art with the children at the Shelter Mision Evangelica Roca de Salvación
Yesterday morning, we traveled (Claudia, Montse and Jordi) to Tijuana to visit the children staying at the Shelter Mision Evangelica Roca de Salvación to have some activities that we've planned for them.
We made a brief stop in Costco, to buy some delicious pizzas (who doesn't love pizza?) to share with the children and their families And make other purchases of snacks, cookies and personal hygiene items to give to children and families.
Lourdes from Families Belong Together, was waiting for us to kindly guide us to the shelter as she always does.
When we arrived at Roca de Salvación, we were pleasantly surprised that for the time being the children were already performing other activities with Border Angels who were visiting along with Joe Murphy and Joe Robertson from Good Chance Theater from the UK. It was a pleasure to greet them and spend some time with them as well.
We are happy to have been able to contribute and bring donations of books for the children to continue learning, clothes and backpacks, paintings, canvas, brushes and other supplies. The children had a fun, creative and artistic afternoon, they painted beautiful artworks with watercolors, and some of them painted their flags, remembering their home countries. Also volunteers in collaboration with FBTMX read stories to the children while they ate their pizza. This is a project called "El Rincon del Cuento/The corner of the story" and we're glad we contributed with books to create this space.
We thank Actors for a Cause, Jordi and Montse for the support of this trip and donations.
If you would like to contribute and join us on our next visit, send us a message to know more details.
Every cent counts!